A chainsaw winch is an absolute necessity. You won't need it on a daily basis, but it will come in handy when lifting heavy objects. When hunting or logging, you'll need it to easily lift your load to the top of the mountain.
Winches made in factories are expensive and also quite large due to the motor. A self-made winch saves money. You will learn how to build a chainsaw winch from scratch with only a few basic items in this post.
How to Make a Chainsaw Winch From Scratch
A chainsaw engine will be required to run your homemade winch. This winch, in contrast to other electric-driven winches on the market, is powered by gas. It is also lightweight and simple to set up.
This time, instead of a winch motor because you already have one, go to your local hardware store and purchase a heavy-duty winch.
1. Take the saw out of the Chainsaw Engine
It is not possible to have both the saw and the winch hooked to the same engine. To begin, detach the saw from the engine according to the manufacturer's guidelines. The method should be similar to that of replacing a saw. You will need the saw, later on, to cut down trees, so make sure to store it properly to prevent rust.
2. Check the Chainsaw Engine's Performance
The condition of the chainsaw engine will have an impact on its performance. Maintaining your chainsaw on a regular basis is essential. A lousy chainsaw will result in a bad winch, which will completely be ineffective. The clutch and throttle should both function correctly. These are the essential components that ensure the winch's long-term viability.
3. Assemble all of the components for the Chainsaw Winch.
You already have a chainsaw in your hand. You'll also require a winch. If you don't have access to a store-bought winch, you may make one out of a strong, flexible steel cable with a little imagination. For these reasons, I favor steel over other materials: it is rustproof and will not break when subjected to heavy loads.
A flat iron, a channel, and an angle are required for the preparation of the winch's base. This will also assist in the support of your winch. These components can be obtained from a scrap trader. You will save money compared to purchasing new ones from a steel supplier. Obtain a pulley, a shaft, and other automobile components which you can find from antique appliances and automobiles.
4. Construct the Chainsaw Winch
To construct a capstan winch you will need to wrap aircraft steel cable around a capstan. Angles, channels, and flat iron are used to construct the winch's base.
Using a wrench, pry open the gearbox of a trash dealer or vintage car and remove the tail shaft housing. There is an inner tube made of rubber. Make a piece of rubber that will fit the backplate of the box. Make holes in the rubber where the bolts will be inserted to hold the rubber in place.
Weld the main support brackets with a gas torch. Cut each piece from a thick 3″x10″x3″ U-shaped channel, according to the specifications. If you do not have access to a gas torch, a welder can do the task for you.
Ensure the transmission to the main shaft of the gearbox by drilling holes through all of the metal plates, through which will be threaded the drum bracket and the crank.
Mount the handle for the winch on the framework. The handle has to belong and be comfortable which will make the winch stable and convenient to use. Thread well the crank and weld carefully the crank joints.
Your winch is now ready to use. It is not possible to pull it with a chainsaw. Make sure you don't overload the chainsaw with too much material. A DIY portable winch is typically capable of hauling the weight of up to 5000 pounds.
Winch on Chainsaw – How Does It Work?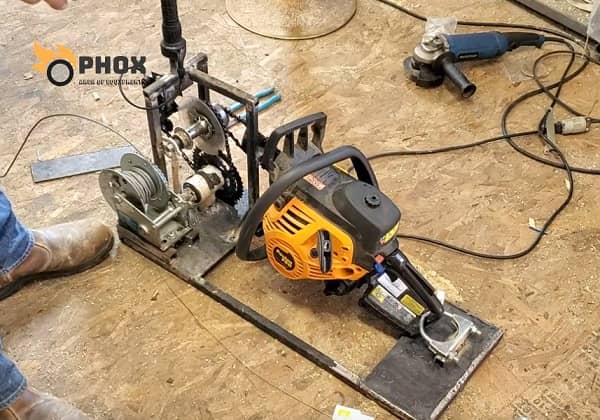 Attaching the winch to the chainsaw engine is the next step after it has been constructed. Place your homemade winch in front of a chainsaw. Attach the winch in the same way you would a saw blade. Ascertain that you securely fastened all bolts to prevent detaching the winch while in use.
You can also utilize your chainsaw winch in place of a handy logging winch in certain situations. If you want to move logs, you can transport the machine deep into the woods and raise it on a tree to drag them uphill. Hunters will be able to make use of the improvised portable winch. They have the ability to hook, drag, and haul their catch back to shore.
It's possible that your vehicle will break down while you're traveling. Using a chainsaw winch from another vehicle, you can haul yours back to your garage and save your breakdown costs.
It is simple to operate a winch on a chainsaw. You can manually operate it using gas. So, don't be fret about power interruptions or working in the middle of the woods without power.
Conclusion
The knowledge of how to construct a chainsaw winch is limited. If you pay close attention to the details, the procedures are easy to complete. It is more cost effective to build your own portable chainsaw winch. You must use items that can be acquired locally. A winch manufactured in a factory costs more than $100 whereas making your own DIY winch, on the other hand, can save you up to 60% on your expenses. Make certain that your chainsaw is in good working order to avoid disappointment.