If you're looking for a strong and big handheld belt sander, the Porter Cable 362V is definitely your best choice. It can sand greater areas – floors, wide tables and shelves, and any other similar items.
PORTER-CABLE 362V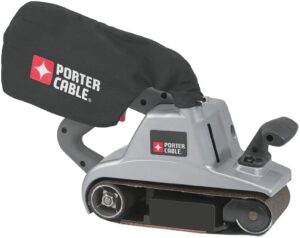 Specifications
 Product Dimensions: 17 x 11 x 8 inches
 Item Weight: 17 pounds
 Motor: 12Amps
 Speed: Variable-speed dial for easy adjustments from 1,000 to 1,500 sfpm
 Belt Size: 4 x 24 inches
 Dust Bag: Large-capacity dust bag swivels 360 degrees to stay out of your way
Benefits Of The Porter Cable 362V
Under the hood, you will see that the Porter Cable 362V features a beast of a motor that runs on 12Amps – This is one of the most powerful motors you will see on any handheld belt sander, almost twice the average motors which only go from 6-8Amps.
Complimenting this strong motor is the heft of the Porter Cable 362V. This belt sander is functionally heavy to reduce any fatigue on your hands – it is easier to control and steer with its weight.
Like any belt sander of true worth, the Porter Cable 362V features a comfortable trigger – grip for your hands to easily control this heavy sander. With this grip, a worker could easily rest his hands as he pushes down and pushes forward at the same time.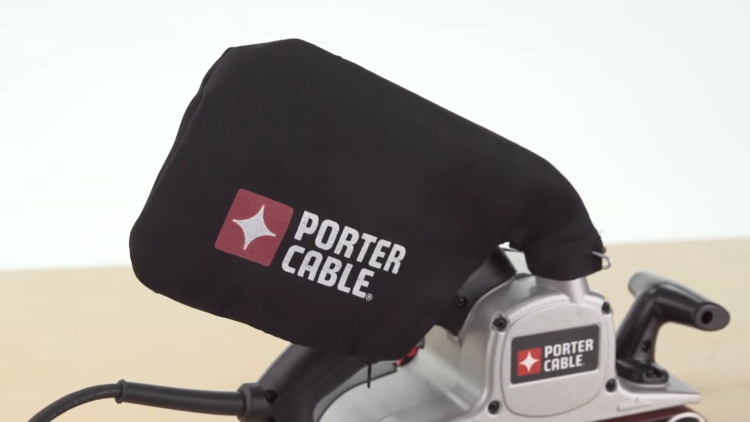 The Porter Cable 362V has its own system to collect all the dust that accumulates and is blasted around through sanding, so you save time on cleanup after the task.
RELATED POST:  Black & Decker BR318 Belt Sander Review
Pros
Best-In-Class Motor – That motor is, as mentioned earlier, a veritable beast that can get you burning through any flaws and bumps in any surface in no time at all. If you're looking for fast leveling of any conventional materials, the 12Amp motor does a great job, and then some.
Balanced Design – Again, the size and weight balance out with the sheer strength of the motor to guarantee a more controlled and comfortable experience for you as you do your sanding jobs.
Built Like A Tank – This belt sander moves like a tank, it acts like a tank, and it is protected like a tank – It is built of quality material, and it can take a good beating and still run smoothly.
Cons
Beast Mode – The size and weight of this belt sander will obviously be noticed and appreciated by many, but still some may be turned off by it, particularly those who would need to do some lifting to sand walls and even ceilings.
Conclusion
Porter Cable cements its reputation as a company known for quality power tools even further with the Porter Cable 362V. If you're looking for a strong and big handheld belt sander, this is definitely your best choice.
We still have many other good products at Best Belt Sander Reviews. Let's take your time and discover more.