Are you in possession of a massive amount of small tools?
Do you keep losing small attachments from your ratchet wrenches and other important gear? Well, if the answer is a 'YES', you've come to the right place.
In this article, we're going to talk about one of the best ways of keeping all of your small tools in one place, so that you don't run the risk of losing them too easily. We're talking about tool chests.
These simple but useful storage units are made to be tough enough to withstand the weight of different tools, but also well designed, so that you can always easily arrange your tools and find them when you need them just as easily.
In the passages below, we've compiled a list of tool chests that you can get at a price of up to $500, so the products you will see above would belong to a more compact side of the tool chest world, so to speak. Of course, we are confident you will be able to find the best tool chest under 500 dollars for your personal needs.
Here's the deal.
Our Top Picks of 2023
Finding the best rolling tool cart can be exhausting due to the number of options you have. However, you still need to do your research to get the right tool cabinet; you need to consider your utensils, the unit's weight limit, and its features.
1. Goplus 6-Drawer Rolling Tool Chest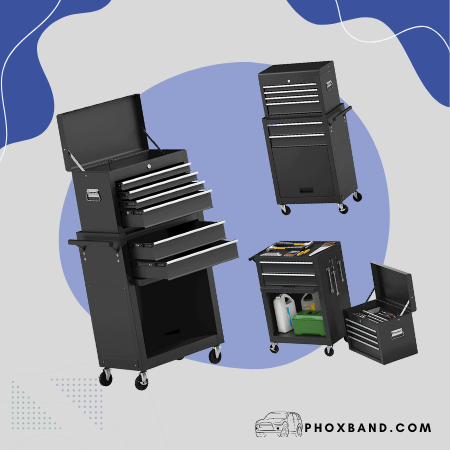 This compact rolling tool chest comes in two different colors – black and red. In both variants, the structure itself is made out of high quality alloy steel that can withstand years of use.
Add to that the fact that both the black and the red paint are specifically added to give this tool chest anti-rust and anti-corrosive properties and you can see why this product will be able to survive a nuclear blast. (Also, this special coating makes this chest a breeze to clean, so you don't need to worry about tough maintenance, either.)
As far as the storage is in question, this tool chest comes with four small drawers, two large drawers, as well as one extra large compartment (which is not a drawer) below these six, where you can store some bigger tools.
While the bottom compartment of this chest is open, the six drawers above it can be locked. This is a feature the manufacturers included both for safety during transport and for ensuring that no one steals your tools while you aren't looking.
Pros
Made out of high-quality cold-rolled steel
Comes with four small drawers and two large ones
There is a large open compartment underneath the drawers
Swivel caster for moving this thing easily
The drawers can be locked
Corrosion-resistant finish (comes in black or red)
Cons
Pretty small (so not perfect for storing larger tools)
Overall, a great model indeed. However, if you have a lot of tools to store, then this might not be enough, otherwise, one of the best budget tool chests.
2. Husky 27 in. 5-Drawer Roller Cabinet Tool Chest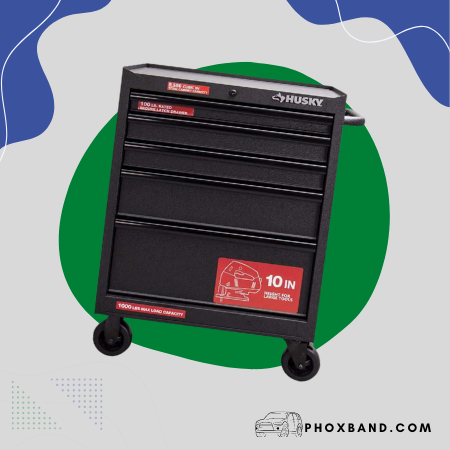 In second place we have the Husky Roller Cabinet tool chest. This is a small tool cabinet so make sure you don't have many tools to store, otherwise, you have to go for something that offers better space.
With this cabinet tool chest, you get a total of 5 drawers, among them, 1 is large, 1 medium-sized, and rest three are small. Large drawers suitable storing few power tools and small ones are for small tools such as nozzle, screws, nut, bolts, etc.
You get little workspace at the top of the tool chest, can be used as a small workbench. All the drawers feature ball-bearing slides that make them very smooth to pull in and out. And these drawers can hold on to 1000 lbs weight. Make sure you keep the weight less than the capacity not higher.
This is a portable tool chest, but not as portable as toolboxes, but still, it is easily moveable, thanks to the caster wheels. It comes with 4 caster wheels that roll pretty smoothly. Two wheels have break functioning as well.
Sometimes it happens that becomes of the smoothness of the wheel, the cabinet starts moving on its own. So braking the wheels will make it stable.
The manufacturer has used 21-gauge top-quality steel in the construction and that makes this extremely durable. Not only that, but the entire tool chest is also powder-coated, so no worries about rust or corrosion.
You can use this item both indoor and outdoor. Plus, rust & corrosion-resistant powder coating makes it easy to clean as well.
If we talk about the look, the black glossy paint makes it look really good. It will suit anywhere, whether it is your room or the garage. It comes with an external lock that secures all the drawers.
And due to heavy steel construction, reaching inside the tool chest without unlocking will be very tough. Lastly, the manufacturer has priced is pretty reasonably, delivers great value for the money.
Pros
Reliable locking system.
Heavy-duty steel construction.
Smooth sliding drawers.
Looks classy.
Caster wheels with a brake system.
Inexpensive price.
Cons
Requires little assembling.
3. Large 8-Drawer Rolling Tool Chest -Metal Tool Box Organizer
There is a lot to talk about this very Super Marts tool chest. The orange color looks pretty cool, it's attractive. And the way that is designed it a nice tool. It comes with different sized 8 drawers and 2 cabinets. One cabinet is on the top which is smaller than the cabinet on the bottom. Among all the drawers, three are tiny tray drawers and one wide tray drawer, here you can put all the small tools like bolts, nuts, screws, sockets, etc.
And there are three drawers which are bigger than the tray drawers. All the drawers have non-slip pads, and it keeps all the tools and items in place. Plus, protects them as well.
Like others in the list, this one is also heavily constructed with cold-rolled steel for optimum durability. It can be used roughly, still, it will serve long. And it is powder coated as well, so doesn't matter if it gets wet, you won't see rust formation. You can use this item both outdoor and indoor. Powder coating enables you to clean this tool chest thoroughly as well.
It is detachable. The top chest part can be removed and used as a toolbox. It has side handles as well, so you can carry it conveniently. And another thing is if you want to you can put the top cabinet into the bottom cabinet as well. There is a side gate at the bottom cabinet, remove that and put the top cabinet inside.
Let us tell you the benefit of this. If you don't have much headspace, where the total height of this tool chest wouldn't adjust, then you can put it inside the bottom cabinet. Another perk is, both of the cabinets are lockable but not the drawers. So if you have something important on the top chest drawers, then you can put it in the bottom cabinet and lock it down.
For smooth opening and closing, the drawers feature ball-bearing slides. And for the smooth moving of this entire tool chest, it features four base wheels that are very smooth on flat surfaces. One more thing that we are sure everyone will appreciate, this tool chest features hooks at the side of it. You can store your frequently needed tools like wrenches, pliers, screwdrivers there while working.
Pros
2 in 1 tool chest.
Smooth-rolling base wheels.
Ball-bearing drawer slides.
Looks good.
Durable construction.
Locks on the cabinets.
Different sized drawers.
Tool hooks at the side.
Cons
If you have a lot of tools to store, then this might not be a good option.
4.
Fatmax Mobile Work Station, 24.8″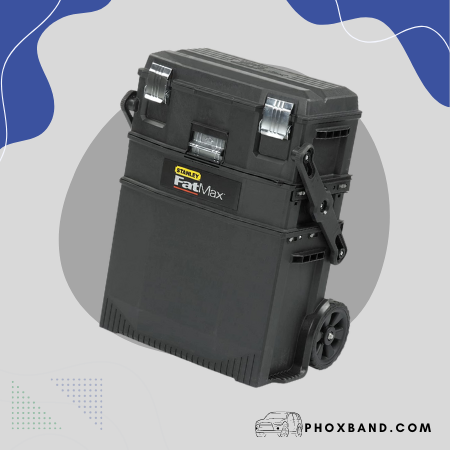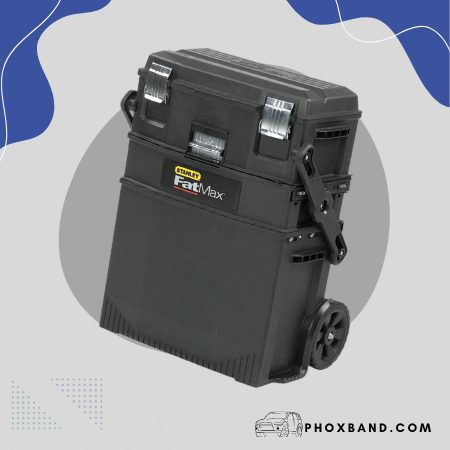 This product offers an outstandingly smart design. Compared to its competitors, the Stanley 020800R tool chest has several layers. Each can be used for storing equipment, such as power and hand tools, as well as building supplies.
It also uses an easy pull-up motion that allows you to open the unit without a problem. Additionally, it has a large latch on the front that locks the unit automatically.
The top cover of this roller tool box can be used as a workspace. It also has a built-in groove that stabilizes piping and lumber. This feature allows you to measure and cut the object better. The Stanley FatMax tool chest is not only ideal for small workstations and indoor projects; it can also be used for outdoor activities. Hence, doing some quick fixes with this portable tool chest is expedient.
Stanley offers a lifetime warranty and a money-back guarantee. Their product received a 9 out of 10 rating from its buyers. Though they provide such services, it doesn't mean that their products are of poor quality; it only gives you an assurance that they are dependable. They all claimed that it's one of the best tool chests they've got, giving them a right to be on this list.
The lifetime warranty caters to the parts of the tool chest. If one of the components break, you may call their hotline, and they will deliver the gears for free. They can also fix it for free. As for the money-back guarantee, the company will give you a full refund if you don't like their products. You simply need to return the item, and they will give your money back.
5. Seville Classics UltraHD 6-Drawer Rolling Cabinet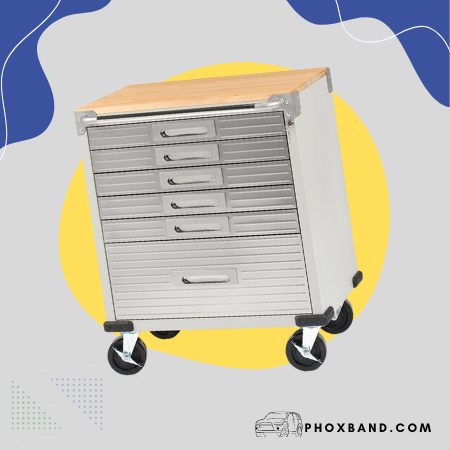 Seville ClassicsTM is a well-known manufacturer of kitchen cupboards, dressers, and garage storage systems. Among all the products they offer, their best-selling item is the UltraHD 6-Drawer Rolling Cabinet as it boasts its impressive design and unique features that other brands don't have.
The top part is made of skimmed wood. This feature gives a stylish and sophisticated look and can be used as a workstation. The drawers are made from stainless steel, while the handles are crafted from premium chrome. Furthermore, it features a one-lock system, allowing you to use a key that secures your belongings. Thus, you don't need to use several keys to lock and unlock the units.
As for its aesthetics, this one is a work of art, which is a standard quality of Seville Classics cabinets. It can hold all your tools and is fully functional. It has six boxes with cushioned linings where you can store your equipment.
Moreover, the strong structure can withstand the toughest strains. It can also carry items up to 90 pounds and drag it without a problem. It's all thanks to the heavy-duty castor wheels that allow you to move the cabinet from one place to another.
If you want to get a sleek yet efficient cabinet, then this is the best toolbox to choose. Not only does it add life to your workspace, but it also keeps all your tools organized and secure. Hence, finding the materials that you need for your project becomes ultra-convenient.
6. Stanley 018800R Mobile Work Center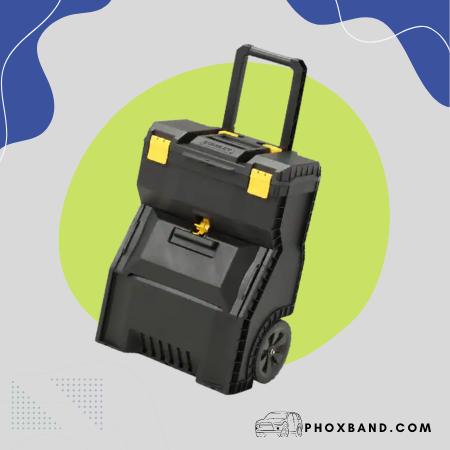 This toolbox is another product manufactured by Stanley. It's the best rolling toolbox for the money. It's smaller than the 020800R, but you can still store a lot of items in it. The Stanley 018800R is perfect for those people who are always on-the-go. It allows you to bring the tools with you more efficiently.
Compared to the 020800R model, this one has three layers. Each compartment is specifically designed for storing various types of equipment.
The bottom part can store bigger tools while the upper portion can carry smaller utensils. As for the middle part, it has a portable tray where you can place your utility knives and screwdrivers. Thus, this portable tool chest allows you to organize your belongings and ensures that you know where you place them.
Furthermore, it has a slide down door system that shuts automatically. Hence, you don't need to exert too much effort to close the compartment. You only need to pull it down, and it will close automatically.
Lastly, the Stanley Mobile Work Center features large wheels and a handle that enable you to pull the tool chest; your tools will stay in place, even if you roll it on a rough surface. It gives you easy access to everything that you need after a long journey.
Because it is a Stanley product, it has a money-back guarantee and a lifetime warranty. You simply need to call their customer support and get the services that you need. They will fix your issue in just a few days.
7. BOSTITCH BTST19802 Rolling Tool Box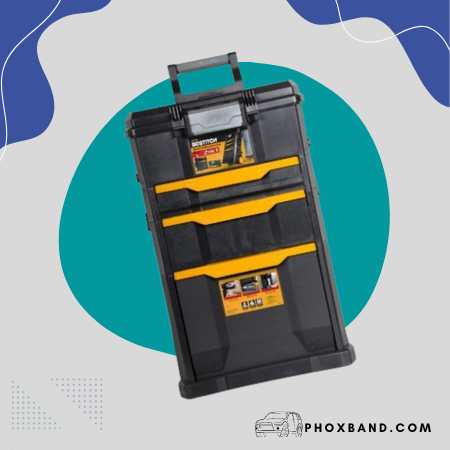 The Bostitch rolling tool cabinet is the best choice for those who own several tools. It allows you to keep them in place without bringing all the materials that you need by simply detaching the compartment and get the tools that you want to bring. Because it's quite small, it can only store items up to 70 pounds. If you exceed that limit, it could cause damage to the tool box.
As mentioned earlier, tool chests are made from aluminum. Though they are made from steel, it doesn't mean they don't get bulky. Once you've loaded the materials in the storage box, it can be heavy, considering that it weighs a thousand pounds! Dragging a heavy piece of equipment can be exhausting. Nobody wants to do it, especially when it's hot or snowy in the area.
Fortunately, you don't have to deal with these issues anymore. The Bostitch BTST19802 Tool Box features 7-inch rubber wheels. It allows you to pull the rolling tool box with ease, regardless of the weather and the ground condition. Moreover, you can split the compartments into two parts. In that way, you can carry the boxes with ease.
The first half is the toolbox that you can detach to the chest; it has a drawer and ball bearings that allow you to open and close the unit with ease. Meanwhile, the bottom part is not detachable.
However, it also has a drawer with ball bearings that slide automatically when you open or close it. All layers of this box are relatively roomy. There's ample space for work belts, saws, hand tools, and drills. It also features several trays where you can store more tools.
8. Excel TB2105X-Blue Steel Top Chest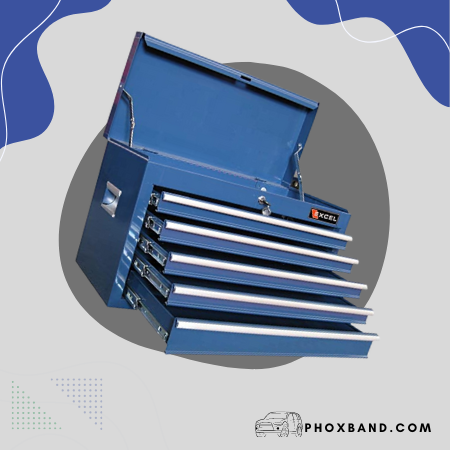 If you want to get the best tool box for the money, then you may choose the Excel TB2105X Steel Top Chest. It is considered to be one of the best tool boxes for mechanics, but other workers can use it as well.
But unlike Seville Classics, the Excel steel top chest uses two keys. One is for locking the drawers while the other one is for unlocking them. Therefore, it gives more security to your belongings as compared to its competitors.
The storage box has five drawers with ball bearings. These bearings allow the user to open and close the units with ease. It also has a top compartment where you can store bigger tools, but you can use it as a table. However, it doesn't have wheels, but it has recessed handles on both sides of the tool cart. It allows you to move the storage box from one place to another.
The structure is coated with industrial powder, and its overall construction of this box is made from pressed steel. It can withstand any abuse; it protects the mechanic toolbox from scratches, making it as one of the most durable tool boxes on the market. Hence, you don't need to worry about damaging the aesthetics while moving the cabinet or working on your project.
Regarding its capacity, it can carry items up to 250 pounds. Each drawer can hold up to 50 pounds. So, if you have several tools to keep, this could be the best option for you.
9. INVIE Rolling Tool Chest with 8 Drawer Storage Cabinet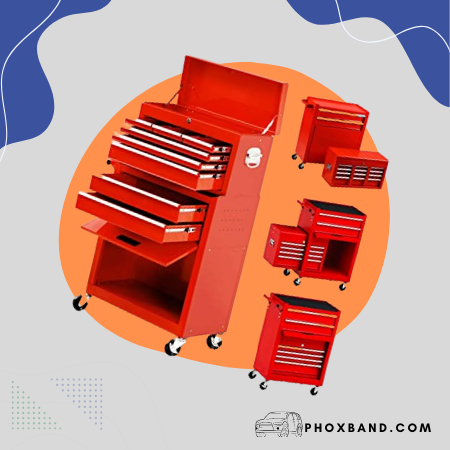 Here comes a highly versatile one, the INVIE Rolling Tool Chest with 8 Drawer Storage Cabinet. It comes with a total of 6 drawers and two cabinets. One bottom and top cabinet. 3 small and 3 little bigger drawers. The bottom cabinet is a little bigger than the top cabinet. Keep the heavy items in the bottom cabinet, because heavy tools on the top will make the tool chest a little unstable. Though the bottom cabinet is bigger than the top cabinet.
It is constructed with top-quality cold rolled steel material, in terms of durability, there isn't anything to worry about. It is pretty durable, can withstand a lot of beatings, and still lasts way too long. Plus, it got glossy anti-rust & corrosion paint on the body that makes it suitable for both indoor and outdoor use. And that makes cleaning easy as well.
It features four base wheels that move pretty smoothly on flat surfaces. Plus, two wheels come with a braking system, so if the tool chest is moving on its own, lock the wheels and it wouldn't move an inch. The tool chest features two handles, that make moving more convenient. If you want, you can disassemble the wheels as well.
The top drawers can be locked, it features an external locking system that will keep all your items secured. Another best part of this tool chest is, you can detach the top chest part and convert that to a portable toolbox. This is indeed a good feature, if you need a small number of tools to carry, you can take the top box, that is lightweight as well.
It comes in red color which looks very attractive, suitable for any garage or other rooms. One more thing we must tell, the drawers come with ball bearing slides, this makes opening and closing the drawer extremely smooth. Just a slight push and pull will do the work. However, make sure you do not put much weight on the drawers.
Pros
Detachable top chest.
Highly durable construction.
External locking mechanism.
Two cabinets.
Smooth-rolling base wheels.
Ball-bearing drawer slides.
10. Long World 8-Drawer Rolling Tool Chest with Lock Drawer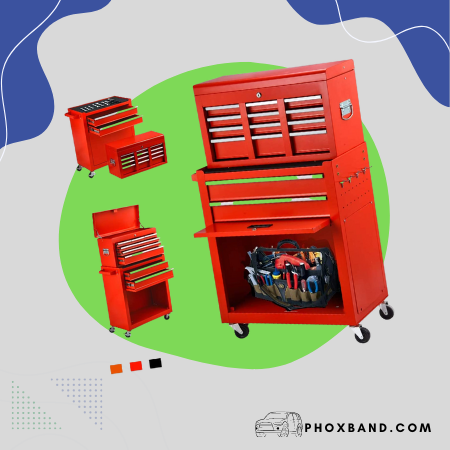 And the last tool chest of the list, the Long World 8-Drawer Rolling Tool Chest with Lock Drawer. It is almost the same as the previously reviewed Super Marts tool chest. It is constructed with top-quality steel material which is a very durable material indeed. Plus, it is entirely powder coated, so it is rust & corrosion-resistant as well. It is also usable in both indoor and outdoor.
It comes with 8 drawers, 3 small tray drawers, 5 little bigger. There are two cabinets, one in the bottom and another on the top. The bottom cabinet is bigger than the top cabinet. The drawers come with ball bearing slides, so you can open and close them very smoothly. Plus, all the drawers feature non-slip padding inside so that tools you place remain stable and don't crash on each other. The side door of this cabinet features a couple of hooks where you can hang most accessed tools like wrenches, screwdrivers, scissors, etc.
It is also detachable, so you can use the top chest cabinet as a toolbox when need. There are side handles as well which will make carrying easy. And if you want you can lock the top chest cabinet inside the bottom cabinet. And then you can use the top space as a little workbench.
Four smooth rolling base wheels make moving the tool cabinet very easy on a flat surface. And two wheels feature brake as well, so if you see the tool chest is moving on its own, lock the wheels it will become fully stable. However, on a rocky and grassy surface, these wheels get stuck. You need bigger wheels for that.
It needs assembling, there will be an instruction guide where everything is written simply. Following that would get you to assemble the entire unit within a very short time.
Pros
Detachable top chest cabinet.
Ball-bearing drawer slides.
Caster wheels.
Side hooks for extra storage.
Durable construction.
Cabinet locks.
Cons
Wheels are good for only flat surface.
Not for professionals.
Tool Chest Buying Guide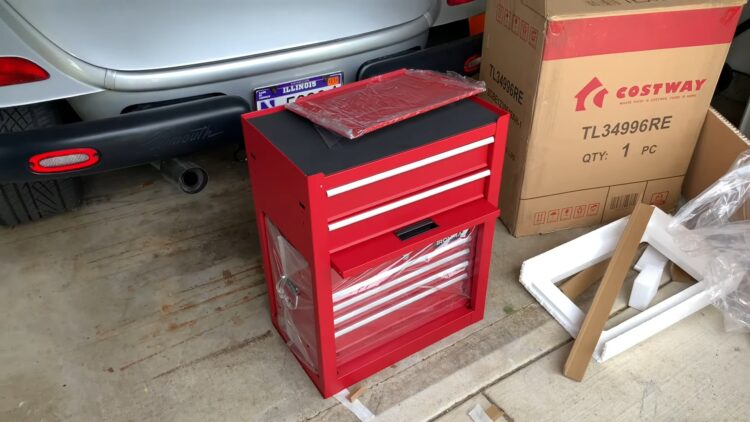 Using the right tools play a vital role in the success of one's project. However, they can only be useful if you know where to find them.
The perfect solution? Portable tool box with wheels! They are smaller than ordinary cabinets, but they provide extensive areas for your things.
But with the number of options you have, how will you know which one is the best choice to make? By answering these questions, you will find the perfect storage box that doesn't bust your budget and helps you in your work plan.
How to Choose the Best Tool Chest Under 500?
Buying tool chest isn't an easy job. It requires a good amount of money and while spending a lot goes into mind. You are investing in good money, so the result should be good. Unfortunately, that doesn't happen at the present time. Along with spending good, having the right knowledge has become very crucial, otherwise, you can end up picking an overhyped tool chest that doesn't offer much value.
The reason why there is a high chance of picking the wrong one is the market is loaded with different models from different brands which can make beginners really confused. If don't have much knowledge about tool chests, this guide will help you.
Here we have mentioned only 3 factors, not 5, nor 10, only 3! You have to look for three features and if you ensure that they are on point, you wouldn't regret buying the tool chest.
Let's get started!
Build Material 
When picking tool chests what most people look for before anything is the storage capacity. That is important but should come after the build quality. Doesn't matter how bigger the storage capacity is, if the tool chest doesn't have the ability to hold on to that much weight, it is a waste. So before going crazy over big storage first make sure that the tool chest will be able to withstand that much weight.
Tools like hammer, wrenches, measuring accessories, etc. are heavy, so weaker material isn't an option here. The tool chest needs to be made of high-quality material that can withstand the heaviness without getting bend and serves for a long period of time.
Not only that, but tool chests also need to be able to take a lot of beatings. Like when you are in between work you cant be gentle every time picking and putting heavy tools. Plus, a lot of time drawers are slammed and when the drawer is filled with heavy tools, that can be damaging if the material is not up to the mark.
There are a couple of materials that are used in making tool chests but there is one material that everyone should look out for, here it is!
Steel
If you want tool chest that will serve you the best, then make sure to have a steel made tool chest, it wouldn't disappoint you. This material is extremely strong and durable. It can withstand heavy weights pretty easily and can take a lot of beating as well. The best part of this material is, they are weather-resistant but still, manufacturers applied powder coating to make sure that they don't get rusty with time. Steel made tool chests can be used both indoor and outdoor.
Others
There are other materials as well but when it comes down to strength, they are not even close to the steel tool chests. Having that said, if you are not a professional and own a very little number of tools, just looking for a thing that will keep those tools organized, in that case, you can go for such tool chests.
You will find plastic made tool chests, then wood made, there are only temporary solutions and cannot withstand much weight. Having that said, there are inexpensive as well.
Storage
After you have sort out the durability, now look for the storage capacity. Tool chest comes with different storage capacities, 5 drawers, 6 drawers, 8 drawers, some come beyond that. Plus, the size of the drawers and cabinets also varies. So for the best fit, the thing you want to determine first is how much tools you will be stored on that tool chests. And then pick one according to that. That would be the best way. Always try to choose bigger storage than you need, it will come in play in the future.
Mobility 
There are two types of tool chests, one is a rolling tool chest and another is a normal one. Rolling tool chests come with caster wheels which enables you to move the entire tool chest from one corner to another corner of the room. You should go for such a tool chest if you will be requiring the movement of it, in flat surfaces rolling tool chest will move way too smoothly.
On the other hand, normal tool chests only come with handles, and they are not designed to be moved often. And even if you need to move it, that could be hard since you have to pick it up with hands. When the tool chest is filled with tools, it is hard to move that by hand.
How Many Utensils Will You Store in the Box?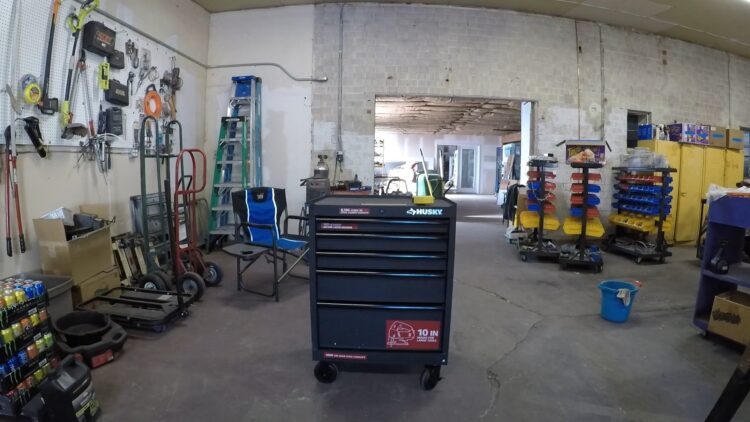 Even if you don't have a lot of gears right now, the time will come that it will grow. Therefore, you need to get a storage unit that can store your future orders.
You can start with a toolbox or a mobile chest. These boxes can keep additional tools and install another storage area when needed.
If you own several utensils, look at the storage limit of the tool chest's compartments. Get a box that has enough loading space, but you have to ensure that it fits in the designated area. The standard size of cabinets and chests is 26 inches, but wider options are also available for variety.
What Are the Sizes of Your Belongings?
If most of your belongings are small, look for a cabinet that has shallow drawers. Some units have a detachable compartment, a removable layer that serves as a drawer, which you can carry around. This compartment is ideal if you are always on-the-go, and you need to bring the needed materials with you.
Meanwhile, if most of your possessions are power tools, you may opt for a unit that has deep compartments. But if you have both sizes, get a chest that can store big and small utensils. Thus, you don't need to get two sets of storage boxes.
How Much Strength Do You Need?
Several factors may affect the overall strength of the tool chest. But the one that influences it the most is a steel gauge. Basically, the heavier the structure, the stronger the unit.
However, heavyweight steel also means a massive storage; hence, making it difficult to move. To reduce the weight but not compromise its strength, get a chest that implements beam construction methods. It makes a strong, sturdy frame that covers lighter steel sheets.
However, the structure's rigidity and durability are not the only factors you must consider; you also need to look at how the manufacturer installed the parts together. How the pieces are attached can also affect the overall durability of the unit.
For instance, the way the casters are connected can influence the cabinet's performance and strength. High-end storage boxes use U-shape brackets to mount and to support the caster. Meanwhile, cheaper options have L-shape braces to reinforce caster channels.
How Often Will You Use the Storage Unit?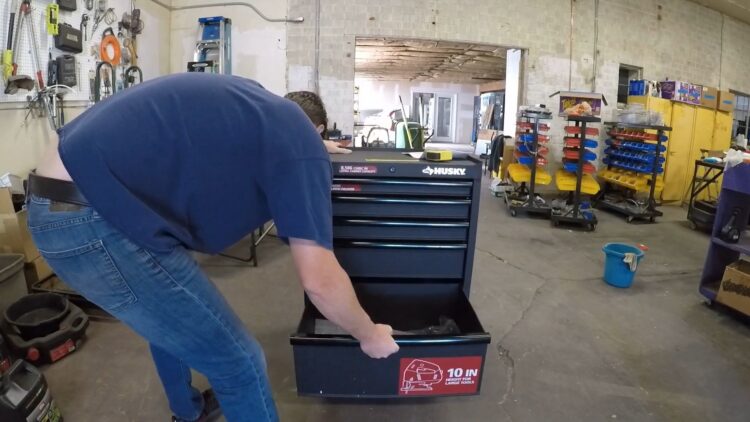 If you want affordable cabinets that you don't need to use regularly, friction drawer slides are the best alternative. They may not be as smooth as ball-bearing slides, but these products allow you to buy another storage set.
But if you constantly use drawers, get a chest that features ball-bearing slides. Specifically made for heavy abuse, they are user-friendly and provide easy access to your stuff as it extends fully.
Though ball bearings allow you to open and close the compartments with ease, they are made differently. Therefore, you need to check its load capacity. Basically, the heavier the weight limit, the greater the slide performance.
Will You Move the Tool Chest?
Even if you don't have plans on moving the storage unit, you still need to consider its wheels. Casters regulate the weight capacity of the tool chest. Thus, the bigger the wheels, the more items it can hold.
For easy portability and better features, look for a storage space that has large, rotating wheels. These casters have a locking system that keeps the cabinet in place. Also, check if the compartments have detents or any mechanism that will secure your belongings.
A detent is a critical part of drawers with ball-bearing slides. It is a catch in the machine that prevents motion until released, ensuring that the compartments are closed tightly while moving the chest.
What Other Features Do You Need?
Nowadays, tool chests are more than just a storage unit. With the advancement in technology, the features of these cases have changed. They've become multimedia centers, allowing you to do more things than just keeping your tools.
Some tool cabinets have a centralized power outlet where you can recharge your phone or equipment that is battery-operated, alternately making it a charging station. Others have built-in LED lights, stereo systems, and refrigerators. These functions can exceed your fantasies.
However, they are more expensive than an ordinary tool chest. Furthermore, the more features it has, the higher the price.
Hence, you need to ask yourself if you need such features. You need to know how you will use the unit. If you want to use it as a workbench, you may look for a chest that has a power outlet and LED lights.
But if you only want to use it as a tool storage, a simple tool chest with drawers would be enough for your loading needs.
Frequently Asked Questions
Are the Husky tool chests any good?
Yes, they are! Build quality, and storage capacity, these two are the most important factor you need to look for when choosing the ideal tool chest. And most of the Husky tool chests offer these pretty well. So obviously they are worth investing in.
Why are Snap-On tool chests so expensive?
Only one reason behind their expensiveness. Quality! Whether it is the material, drawers, cabinet, caster wheels, they ensure everything is top-notch so that the user enjoys a satisfying service.
What is the best tool chest for the money?
There are a lot of tool chests that offer good value for the money but you want few names, we would say, the GoPlus 6-drawer rolling tool chest and the Husky Roller Cabinet tool chest. They offer the best service for the buck.
Conclusion
There are several tool chest products that you can buy in stores. But our top choices are Stanley 020800R FatMax and Bostitch BTST19802 rolling tool chests. Both offer convenience to its users.
The Stanley FatMax doesn't only serve as a storage box but also as a workstation. Hence, you don't need to bring a workbench whenever you need to work in the field.
Meanwhile, the Bostitch rolling tool chest offers two compartments that you can split in half. This allows you to move the unit with ease. Moreover, it allows you to bring the items that you only need.
Again, your choice lies in the tools you use and your work environment. So, make sure you do your research before buying a product to get the most out of your budget.
Here are some other interesting models that you might like: