Whether you need to unscrew a bolt or two, or you need to tighten a loose screw, having the proper tools for the job can make this process much easier.
The thing is, while tightening and untightening a bunch of screws 'n' bolts isn't exactly nuclear science, without the proper tools at your disposal, you will have to spend a lot of time finding the screw attachments of the proper size to get the job done.
Editor's Recommendation: Top 5 Mechanics Tool Set For The Money
If you try to use an attachment that's too large (because you can't possibly use a smaller one even if you tried), you will almost certainly end up damaging it. Do this a couple of times too often and you can even completely destroy that particular attachment!
Now, to prevent this annoying turn of events, the best course of action would be to prepare everything you need for the task at hand – beforehand.
Of course, buying a brand new set of mechanics tools will come at a certain cost, but as long as you know what sort of activity you need these tools and attachments for, you can rest assured that this initial investment will save you a lot of money and effort in the long run.
In this article, we're confident you'll be able to find the best mechanics tools set for the money you're investing, that are currently available on the market. As you will see, these sets typically feature many different pieces, so buying just a single set can save you a lot of trouble when your future mechanics-related tasks or projects are in question.
Here's the deal.
Best Mechanics Tool Set For The Money
1. DEWALT – 205-Piece Tool Set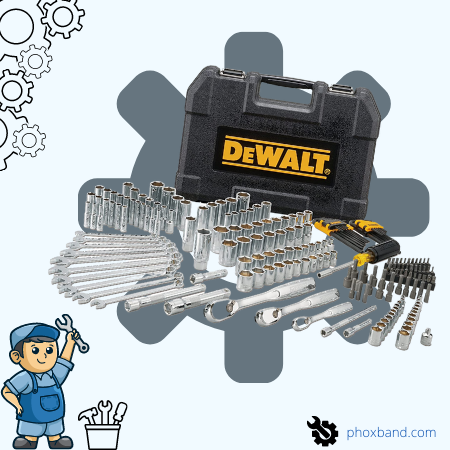 As the name of this set from above suggests itself, this package comes with 205 different pieces. This means that, by purchasing just this single package, you can work on a wide variety of projects, without having to buy any extra parts.
If you're a mechanic who constantly works on cars, motorcycles, and other machines, this set can be a perfect option for you because it comes with ratchets that have 72 teeth. (The more teeth a ratchet has, the more precise movements it allows.)
o, if you have little room for movement beneath the hood of a car, for example, somewhere in the cooped up engine compartment, these ratchets will allow you to tighten or unscrew bolts that are hard to get to and where you don't have much space to work with.
Pros
Highly sensitive 72-tooth ratchets
Excellent maneuverability in restricted areas (such as underneath a car bonnet, for example)
Durable carrying case
The fully-polished chrome coating makes these tools corrosion-resistant
Anti-slip screwdriver handles
Cons
A tad expensive (but worth it if you can afford it)
2. Crescent CTK170CMP2 Mechanics Tool Set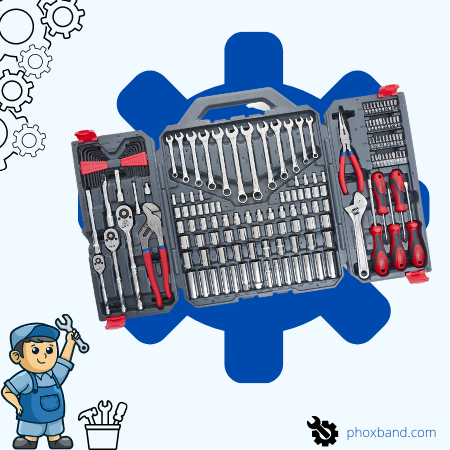 If you are looking for the best professional mechanic tool set, one of the prudent options in Crescent CTK170CMP2. As an upgrade from its earlier version, Crescent CTK170CMP2 boasts of an enhanced casing that is durable enough to resist cracks.
The improved case also acts as a safe storage for all the tools.  With each item having its own spot inside the tool case, it is now more convenient for you to keep and get your tools.
Aside from a well-made case, this toolkit is a sturdy storage for various tools that passed the new list of rigorous requirements set by the American National Standards Institute and the American Society of Mechanical Engineers.
Crescent CTK170CMP2 contains 170 pieces of mechanics tools. Finished with chrome vanadium steel alloy, each piece is guaranteed to have excellent quality. From the 72-Tooth Quick-Release Ratchet to Metric Hex Keys with Holder, every item in this tool box is designed to resist scratches and rust.
Other than the quality of the tools, the Crescent CTK170CMP2mechanics tool set is remarkable for its variety. This set is comprehensive enough to cover all tools necessary for generally all projects.
From household repairs to mechanical and industrial projects, the sensibly picked assembly of Crescent mechanics tools will surely be useful for a variety of applications.
The Crescent CTK170CMP2 contains quick-release ratchets, extensions, spark plug sockets, deep sockets, combination wrenches, pliers, screwdrivers, driver bits, hex keys, to name a few.
No doubt, the Crescent CTK170CMP2 Mechanic Tool Set holds the essential tools needed for any repair. It is surely a product of superior quality and assortment.
3. Stanley STMT71654 201-Piece Mechanics Tool Set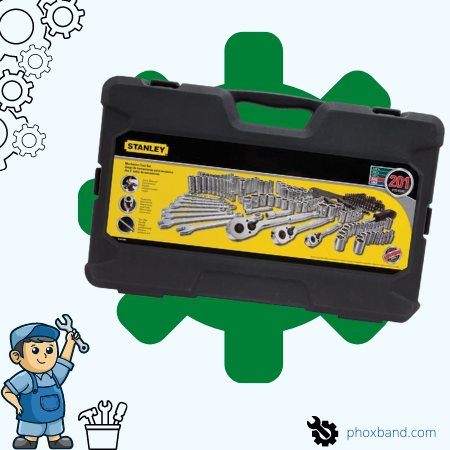 One of the best mechanics toolset that was released by the well-known brand Stanley is the Stanley STMT71654 Mechanics Tool Set. Respected in the industry because of its superior products, Stanley offers another collection of tools that will surely impress any handyman.
All wrenches ratchet, and sockets are mass-produced internationally according to the brand's lofty standards, often going beyond that specified by the American National Standards Institute. Stanley STMT71654 is an extensive selection of 201 tools necessary in carrying out usual repairs and do-it-yourself projects.
Even the novice mechanics may take full advantage of this toolset as the tools are easy to use and not difficult to find. Likewise, even if beginners commit an error in handling the tools, they can be assured that the tools will not easily wear out as they are made from first-rate materials that are proven to be hard-wearing.
Black nickel chrome has been applied to each hand tool in the STMT71654 Mechanics Tool Set to give it a robust yet neat appearance.
An attribute of the Stanley STMT71654 that will capture the interest of many mechanics is the Max-Drive design of its sockets, which delivers 15 percent more torque. The torque effortlessly tenses fasteners and makes the turning of rounded corners simpler.
This feature helps minimize wearing out of the fastener by lessening its contact to the external part of the fastener. This, in turn, helps boost the tool's life expectancy. Moreover, the Max-Drive feature helps decrease instances of slipping on corroded fasteners.
4. Craftsman 230-Piece Mechanics Tool Set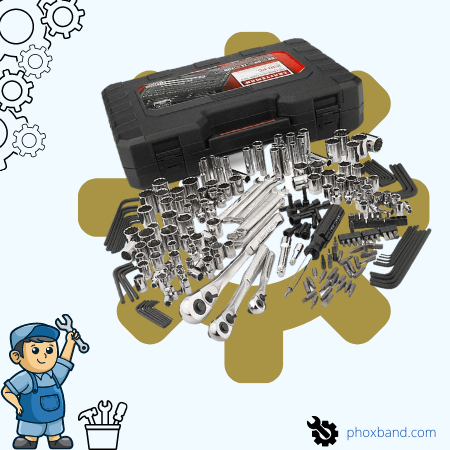 Whether you are a veteran mechanic fixing an automotive problem or you are a frugal member of your household who plans to just do the simple home repairs all on your own, the Craftsman 230-Piece Mechanics Tool Set is a versatile toolkit that will surely be your wise investment. This tool box boasts of practically all the tools needed in carrying out any handyman's task – from simple restoration projects at home to more complicated industrial repairs.
The Craftsman Mechanics Tool Set contains 230 pieces of tools made of hard-wearing alloy steel. Except for the screwdriver bits, all the tools in this set are covered by warranty.
This collection of tools features a convenient design and sturdy built, guaranteeing an overall product that will stand the test of time. Furthermore, the tools can be used in repairing different items as they come in various sizes and measurements.
Included in the toolkit are three quick release ratchets that come in different sizes, as well as universal joints and expansion bars that allow you to extend your reach.
Furthermore, the tool set contains 116 sockets, combination wrenches, a wide range of drive tools and 109 specialty tools. All these hand tools are systematically arranged in a hard-wearing storage.
Aside from providing an organized way of keeping your tools, the Craftsman 230-Piece Mechanic Tool Set is also highly rated because of its durability, compactness, and flexibility. It can be used anywhere, anytime for any kind of repair or project, making this mechanics tool set a sensible purchase.
5. DeWalt DWMT73803 Mechanics Tool Kit Set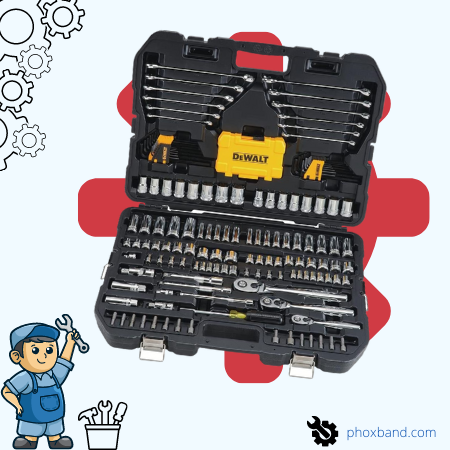 One of the primary reasons you want to purchase the best craftsman toolset in the market is the convenience you want to achieve by having an organized way of carrying your hand tools.
With the DeWalt DWMT73803 Mechanics Tool Kit Set, you can be assured of this suitability as the toolset proves to be highly portable and very well structured. The first thing that a mechanic will certainly love about this toolkit is its compact storage case.
Each tool is securely in place inside this collection's sturdy casing. The case of the DeWalt DWMT73803 is only the icing on top.  Inside it is the real deal. The case is home to 168 pieces of quality hand tools.
This mechanics tool kit includes Tooth Ratchet, extensions, universal joint, sockets, Tooth Quick Release Ratchet, Drive 6pt sockets, Drive 6pt deep sockets, Drive Spark Plug Sockets, Combination Wrenches, SAE Hex Keys, Metric Hex Keys, Vinyl Grip Multi-Grip Bit Driver, 15 Nut Driver Bits, and MaxFit Bits.
As the brand DeWalt is best known for its solid commitment to workmanship, each of the tools inside this toolbox possesses both a sophisticated appearance and a durability that conforms to industry standards. Moreover, the layout of the DWMT73803 Mechanics Tool Kit is orderly enough, making it faster and easier for the user to find the tool needed at any circumstance.
Another thing that makes this mechanics tool set a great investment is the warranty that comes with it. DeWalt offers a 24-hour replacement program for this mechanics tool kit. With such assurance from its manufacturer, you should give this tool box a place in your compartments.
6. Apollo Precision Tools DT9706P General Tool Set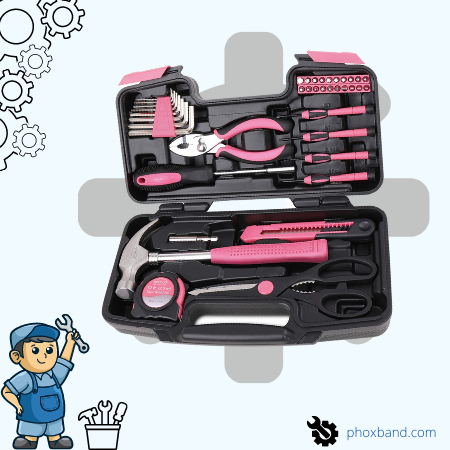 Every empowered woman needs to have the right-hand tools to do some repairs all on her own, and the best toolkit for the female handyman is the Apollo Precision Tools DT9706P General Tool Set. Clad in a sophisticated chic hot pink and black color scheme, this Apollo toolkit is a must-have for every lady who wants to be prepared for any need of repair that may come her way.
From mounting curtain rods to fixing the guest room's door know, a woman can do the repair with just these simple hand tools at hand. The Apollo DT9706P Precision Tools kit contains 39 essential tools that can be used for an extensive range of repairs and projects.
The set is composed of slip joint pliers, screwdrivers (Phillips No. 1, No. 0. Slotted 2.4mm, 3.0mm), a tape measure, claw hammer, total 1-inch bits, SAE hex keys, a knife, a pair of scissors, and a bit driver.
The hand tools in the Apollo DT9706P are guaranteed to be hard-wearing as these tools have been subjected to strict industry procedures of heat treatment and chrome plating. The durability of these tools goes beyond the standards for tool safety specified by the American National Standards Institute.
Aside from being a handy tool kit for women, the Apollo DT9706P Precision Tools kit has a greater purpose. For every Apollo DT9706P set sold, its manufacturer, Apollo Tools, donate to the Breast Cancer Research Foundation $50 cents. The fund raised through the purchase of this chic mechanics tool set will be used for research on breast cancer prevention and cure.
7. Craftsman Mechanics Tool Kit – 224 Pieces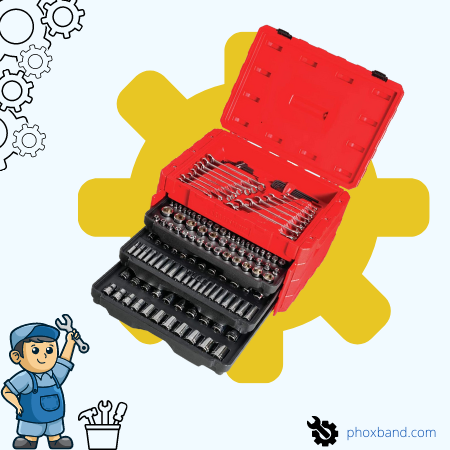 Craftsman is the most popular brand in the automotive industry. The Craftsman 224 piece of mechanics tool set is another excellent product of their brands. In this tool kit box, you get all the essential tools together, which will be much needed in your professional work field. It also has different sizes of tools that you can use in different jobs.
They include 72 tooth ratchets in 3 drive sizes for minimal arc swing and increases access, which you can use in the field of critical work of different machines. It also has 15 driven tools, even 6 point sockets for increased torque wrench with fastener.
Craftsman all tools are made with durable materials so that it lasts a long time. Also, these tools are chrome finish for corrosion resistance. It meets with ASME specifications; that's why you can easily trust these product qualities, and you can use any mechanical purpose works.
A 3 drawer system durable tool box with craftsman's tool kit, where you can easily arrange all the products, you can easily carry all the kits to work on your projects. One of the best features of the craftsman brand is that you get a lifetime warranty with it to use it a lot of peace of mind.
8. WORKPRO – 450 Piece Mechanics Tool Set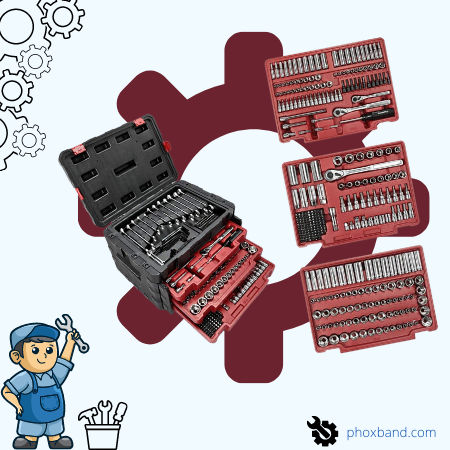 In the field of any kind of repair, a lot of tools of different sizes are needed, so if you want a complete professional tool set, in this case, the WORKPRO is the perfect pick for you. The WORKPRO features 450 pieces of the tool kit, which is specially made for professional work purposes, but you can use it for many purposes.
In this universal professional toolset, you will find innumerable types, all kinds of essential tools of different sizes, which will help you work on home improvement, automotive, and any repairing purpose.
It comes with 1/2 inches, 1/4 inches, and 3/8 inches, quick release torque wrenches, and combination wrench also has an 8 "arc swing, and 45 tooth gear. Also, many more small sockets, bits of different sizes constructed of chrome vanadium steel, contain essential repairing tools.
Every tool that comes with it is made with durable materials, so they have a lot of comparative strength. Which is ideal for various work, such as applying torque to turn rotary fasteners, screwing and unscrewing, tightening or loosening nuts and bolts, and many more types of mechanical work. Each kit is given size with it, so it becomes much easier to find the exact kit from the box. And these tools exceed the ANSI standard so that you can trust these quality products.
The WORKPRO 450 piece has a sturdy blow molded case for arranging the various tools and for easy storage, which is very durable and helps you a lot in easy transportation. Overall this is another professional and perfect mechanics tool kit for the DIY enthusiast.
9. STANLEY – Professional Grade Black Chrome Mechanics Tool Set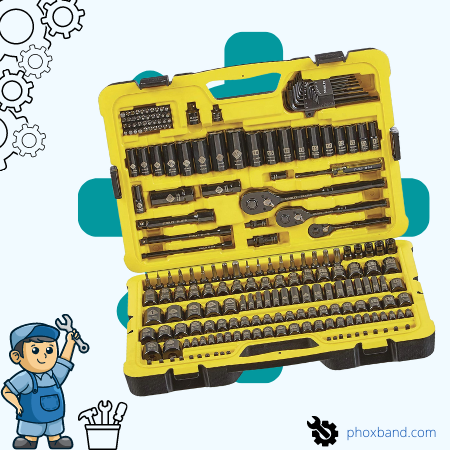 Another excellent pick for mechanics and specialists in the field of professional automotive work is STANLEY professional tool kits. These professional-grade tools are made with durable materials like our other pick; also, this toolset of STANLEY has a 229 piece set.
This professional-grade black chrome set has the best torque wrench of different sizes, bits, and many more size sockets, which will help you repair the machine of different sizes effortlessly.
One of the great features of the Stanley is each socket has a laser-etched between so you can read it easily. And you can choose the size sockets and bits according to your work.
The STANLEY includes a 1/2″, 1/4″, and 3/8″ wrench, also SAE plus all sockets. Its reversible mechanism with quick-release buttons. It has a different torque wrench and sockets so that you can use it for professional purposes without any hassles.
Also, the STANLEY Professional Grade Black Chrome Mechanics Tool Kit meets the ANSI specifications. It also comes with a durable storage case in which you can easily pack up 229 piece kits and easily carry them anywhere in your professional work. Another great feature is that you get a lifetime warranty with it so that you can use it with a lot of peace of mind.
10. METAKOO – 203 Piece Mechanics Tool Set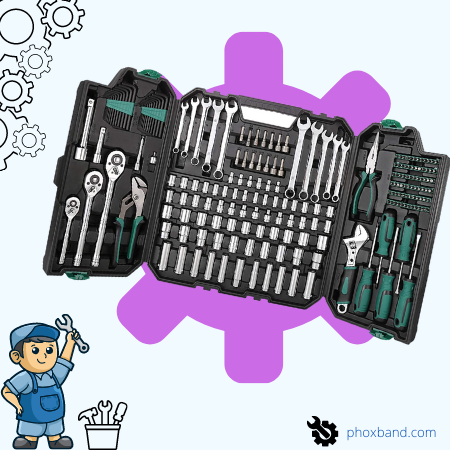 The METAKOO 203 piece mechanics tool set is an excellent choice for both general and professional purposes work. You will find a complete mechanics tool in this set, which you can use for any kind of work purpose effortlessly, just like our previous picks.
One of its great features is that most of the tools are suitable for regular use, as well as tools like screwdriver and pliers have a comfortable handle grip, which makes it easy to handle it and use. There is no fear of slipping even if the hand is slippery during torque.
With METAKOO, you get a high-quality standard screwdriver, 1/2″, 1/4″ and 3/8″ different sizes ratchet wrench with 72 ratchet wrench tooth set, multiple types of plier, complete accessories of HEX wrench, and many more tools which perfect for many different purposes including electronic, water pump repair.
The wrench set is also made with CRV steel, which is extremely strong and durable; also, they include both SAE and metric sizes. So that you can safely use it for any purpose. The drive sockets and ratchet set are chrome plated and mirror polished; that's why these tools are highly corrosion resistant and easy to use.
With the four piece screwdriver that comes with it, you get 60 piece replaceable bits, which can be used in different sizes and for different purposes. Also, all of these ratchet wrench, sockets, and adapter you can apply for any purposes. You get a handy blow-molded case to keep each tool organized and safe; also, it is very strong and easy to carry anywhere.
11. Kobalt 856855 – 300 Piece Advance Mechanics Tool Kit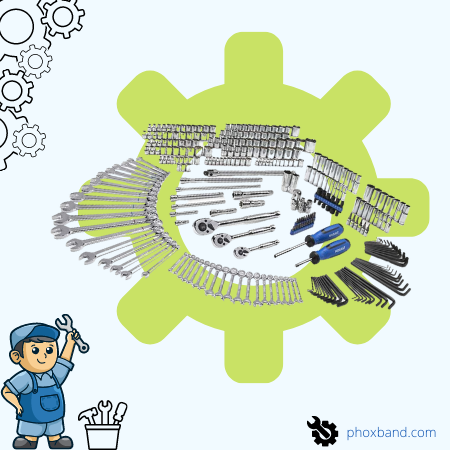 As you read in the titles, if you are looking for a tool kit set in the field of advanced-level work, then you can see this model of Kobalt. There is a combination of different sizes of magnetic bit drivers and spinner handles, ratchets, sockets, and wrenches to work at the advanced level.
Each tool is made with chrome steel with a professional-grade polish finish. These kits are also of extremely durable quality and strength so that you can use these in any kind of hard work effortlessly. The handle grip of the spinner handle and screwdriver is designed in a very comfortable way, so there is no chance of slipping easily when working with it.
With every different size of bits and every type of bits and kit, you can use any type of machine repair, automotive and mechanical work with the tool according to the size you need. Also, the tray in which each kit is arranged and given the clear name and size of each of the kits, so you can easily pick it up.
The Kobalt advance mechanics tool kit comes with an amazing garage toolbox, which is plastic but very durable. Each tool, bit set, is arranged wonderfully; also, the box is excellent in design compared to other best mechanics tool set boxes. And anywhere you can carry it, you can also arrange all the tools safely. It is a professional-level tool kit set.
Best Mechanics Tool Set For The Money Buying Guide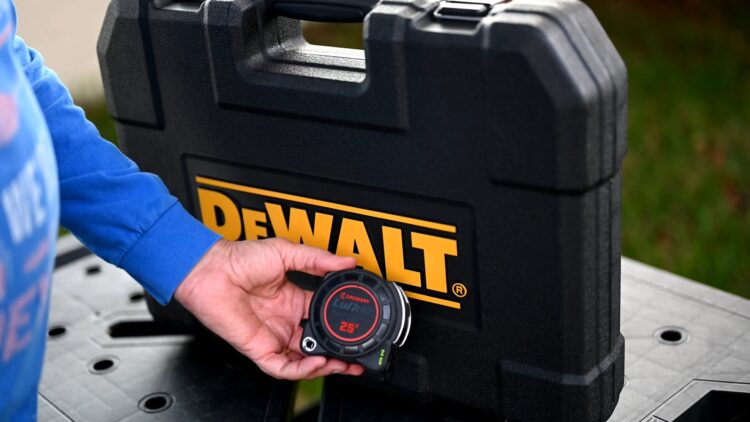 There are certainly a handful of choices in the market when it comes to the best mechanics toolset. While having many options is a good thing, choosing from all these great toolkit brands can sometimes be overwhelming, especially if you are a novice in the handyman's league.
There is indeed more to a quality mechanics toolset than the color of its case. As a prudent buyer, you need to know certain points that will help you pick the best mechanic toolset for your needs. In this regard, before you head to the nearest home improvement shop, take a little time to learn from the following bits of information that may just come in handy in selecting your choice of the toolkit.
Know What You Need to Use
The most important rule in choosing your mechanic's toolset is to know the basic tools needed in your current project or in regular repairs. In other words, get the tool set that includes the complete tools that you need and will continue to use. Your tool kit should have the tools you usually use or they will just end up useless in the cabinet.
While most starter toolkits offer almost every basic tool needed in typical repairs and projects, it still pays to know your primary needs as this will help you select the most practical purchase.
For instance, if your current project is complicated enough, you might need to buy the toolset that holds 230 pieces of tools. On the other hand, if you are a beginner who simply wants the basic tools for a start, then a 32-piece mechanic's toolset is a good choice.
Check Out the Housing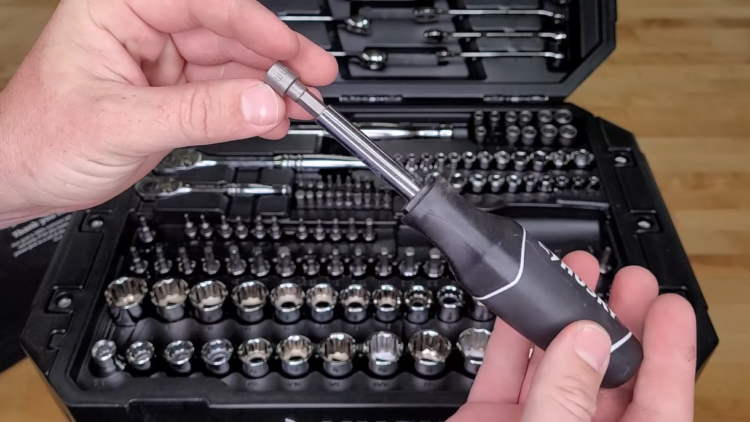 The storage case of the toolset is just as important as the tools inside it. Take into consideration that this not only acts as storage to arrange the tools for easy access but also serves as a protection for your tools. As you review various brands of mechanics tool sets, be meticulous about the construction of the case.
A toolkit casing made of plastic material with hinges, snaps, and draw-bolt latches is ideal for safekeeping. Moreover, a well-made case will allow you to easily carry your toolkit wherever you need it.
Evaluate Socket Markings
To make the most of the capacities of the mechanic's toolset, study carefully the socket markings of your tools. Though it may seem futile, selecting the socket marking that will work best for your specific requirements and preferences is a vital part of choosing the toolset to purchase.
Whether you are a professional mechanic or a beginner who wants to learn do-it-yourself repairs, having easy-to-find socket markings will be an immense help in your tasks. These clear markings will save you more time during repairs as it will lessen or totally remove the need for a trial-and-error process. It will also be helpful in easily putting back the sockets inside the case.
When shopping for the best toolboxes for the money, look for the latest trend in socket markings. Laser-marked sockets are ideal as their markings are better in terms of readability. However, sockets with embossed markings are still a great find if the markings are big enough to be clearly seen.
Make sure the ratchets are durable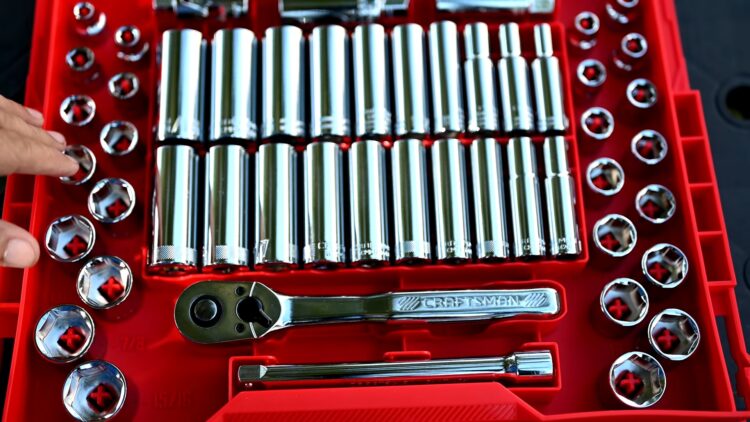 The American Society of Mechanical Engineers (ASME) specified standards when it comes to the resilience of ratchet. As per ASME requirements, a 3/8-inch ratchet, regardless of its tooth number, must endure at least a torque of 1,800 inch/pound.
Keep this in mind while reviewing different brands of a tool set. As long as the ratchet meets ASME standards, it is safe to buy the tool kit notwithstanding the ratchet's tooth count.
Appraise the Ratchet Tooth
One of the vital considerations in choosing a toolset is the ratchet tooth. A safe guideline is the more ratchet teeth there are, the less swing will be necessary. To put it simply, with more ratchet teeth comes less rotation. With this necessary design, you can effortlessly move in just one click, making the tools very convenient to use even if the working space is limited.
A first-rate mechanic tool kit should have this feature to give its user convenience. The inner gear's tooth count is more important to check than the gear device within the ratchet head. This part is necessary for achieving the optimum efficiency of the tool.
Look for the Quick-Release Button
When scouting for a good mechanics tool kit, check immediately whether or not the ratchet has a quick-release button. This fitting feature will make the socket easily detach from the ratchet. Many brands in the market offer tool set that feature a quick-release button.
A wide-ranging best mechanics tool set is a necessary investment for anyone – from technicians and tradesmen to those who wish to carry out do-it-yourself repairs at home. Industrial repairs or even tasks in the household are easier to accomplish if every necessary hand tool is just within your reach.
Choosing the right tool box is the crucial first step in your task as a handyman. Obtaining a quality mechanics tool set is the groundwork that will allow you to get your work done as quick and efficient as possible.
With the many great options in the market these days, selecting a complete toolkit can be a confusing task. It is a challenge for every mechanic to determine which brand of tool set to pick.
Best Mechanic Tool Set Brand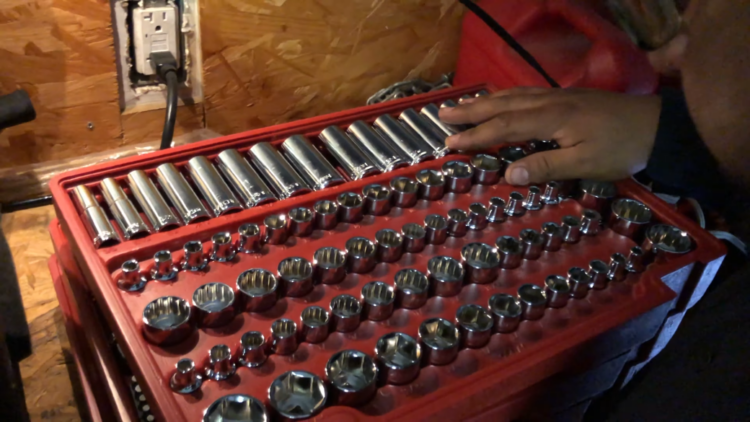 CRAFTSMAN
DEWALT
GEARWRENCH
DEKOPRO
Kobalt
WORKPRO
Crescent
EPAuto
Cartman
Conclusion
Hence, many well-known hand tools brands such as Stanley, Dewalt, Apollo, Cresent, and Craftsman offer the best mechanics tool set for beginners that contain all the basic tools needed to carry out all sorts of repairs and projects. You just have to go over each one according to important points such as casing construction and quality of contents.