Let's face it.
Getting someone to give you a jump start in the middle of nowhere is next to impossible. Either they won't agree to help you or they probably don't have a battery charger.
The ideal choice is to avoid this kind of scenario by getting yourself a quality battery charger. Be that as it may, finding the best 12v car battery charger is one hefty task.
Lucky for you, I've got everything sorted out for you. In this comprehensive guide, I'll tell you everything you need to know about buying battery chargers, and obviously, there are going to be in-depth reviews.
So, without any further delay, let's get to it-
Our 5 Favorite Best Heavy Duty Battery Chargers
In-depth Review Of The 10 Best 12v Car Battery Charger
1. TACKLIFE T8 800A Car Jump Starter
Tacklife has been satisfying people since 2015 with its stellar customer service and top-notch tools. The TACKLIFE T8 is a fine example of how you can portray craftsmanship and reliable support. This model comes with a peak of 800 amperes, making it a perfect choice even for commercial vehicles.
The Tacklife T8 is a lot more than your average battery charger. It comes with convenient features like two USB ports, a hazard light signal, and a helpful compass. In other words, it's a value-packed tool with many uses.
Unlike other battery chargers, it takes only 4.5 hours to fill in the juice whereas others take up to 24 hours. And once all the juice is in, you could very well use it to jump-start your vehicle up to 30 times.
On top of that, they've added high-end smart cables that prevent any kind of sparks thanks to their surge protection feature.
Even though the battery charger is lighter than usual(a little above 1 pound), it's mighty powerful in terms of performance.
The Tacklife T8 is no doubt one of the best portable heavy-duty battery chargers out there. The portability, manual turning off, handy features, and reliability shows that it deserves to be in the first spot.
Pros
Heavy-duty charger capable of jump-starting 30 times

Comes with handy features like dual USB ports

12 months of long standby time

Has an emergency light indicator
Cons
The instruction manual doesn't explain the recharging process properly



2. Clore Automotive Jump-N-Carry JNC660
Every day more and more people are realizing the importance of jump starters. I mean no one likes to get stranded in the middle of nowhere with a dead battery. The Clore Automotive Jump-N-Carry JNC660 is what you need for those emergencies.
Sitting at 1700 amps the power is much higher than the Tacklife T8 and it's more than enough to jump-start most engines. Moreover, this heavy-duty battery charger for trucks comes with a set of 46-inch long cables, making it easier to reach your vehicle without much trouble.
However, it's better to inform you that the cables don't have reverse polarity protection. Unless you don't want to fry all your electrical components make sure to connect the cables the right way.
Another point to note out is, weighing at 18 pounds the Clore Automotive JNC660 is far from being compact and lightweight. But it's small enough to store in your trunk.
If you don't mind having 18 pounds of a battery charger in your trunk, the JNC660 model from Clore Automotive is undoubtedly the best commercial battery charger.
Pros
The extremely powerful 1700A battery charger can jump-start any engine

Comes with long 46-inch cables

The high-performance Proformer battery is replaceable

Includes automatic to prevent overcharging
Cons
No matter how you see it's quite heavy



3. NOCO Boost Plus GB40
Get ready to give a farewell to your battery problems because the NOCO Boost Plus GB40 is here to solve all those problems. Whether you have a massive truck or a sedan, this battery booster will make sure you're never stranded on the side of a road.
At first glance, you might think the Noco Boost Plus is a small-time battery charger with nothing much under the hood. But the surprising fact is it can wake up 3-liter diesel engines to 6-liter gas engines up to 20 times without even trying too hard.
Although I'm not quite a fan of the jumper cables. I would've liked them a lot better if they were long like the Clore Automotive jumper cables. However, they're long enough to get the job done.
The best part about this battery charger for a diesel truck is the design and compactness. Weighing only 2.7 pounds, it's fairly lighter than the Clore Automotive JNC660.
The Noco Genius Boost is a fine example of a well-made battery charger with useful value-adding features. The sleek design with quick recharging time, reverse polarity protection, and 100-LED lights make it a great bargain and the best car battery charger consumer reports in this competitive market.
Pros
Lightweight and compact design fits anywhere

Reverse polarity protection protects the electrical components

Charges in only 3 hours

Powerful lithium battery
Cons
Could've used longer jumper cables



4. DBPOWER 800A
What should be the two most important selling points for a battery charger? The first one is reliability and the second one is portability. But the DBPOWER 800A manages to blend in these two aspects in one single package.
When it comes to performance, this battery tender for diesel truck can jump-start 7.2L gas or 5.5L diesel engines up to 20 times. Once you're done, you could store it in the semi-hard case that comes with a durable zipper to hold everything together. The interesting part is the case comes with a separate to store other accessories you might need.
Till now, it might seem like the DBPOWER 800A is almost identical to the Tacklife T8. But it falls behind in a few aspects. For example, the jumper cables aren't up to mark.
Ideally, you would have standard-sized clamps and long cables. Instead, the clamps themselves are bigger than usual and the cables are annoyingly short. While it's true that you can always get another pair of cables, spending the extra money might not be the best idea.
Pros
Reliable battery charger with a peak of 800A

Comes with a durable and stylish semi-hard case

The jumper cables have necessary safety features
Cons
The cables are a bit too short
5. NOCO GENIUS10
You already have a good idea about what a stellar brand Noco is. The brand promises to deliver outstanding tools at a decent price without compromising any of the quality.
Inside the box, you get a charger and clamps with removable cables. Thanks to these you can use other cables too if you want. And they have little plugs to cover the cable pigtails so that they stay protected from dirt and rust.
Moreover, the clamps come with a button-head screw, allowing you to connect the cables to the battery posts securely.
Charging your battery with this is pretty straightforward like every other battery charger for trucks out there. With the lead battery setting, it shouldn't take more than 4-5 hours for the green LED to give you the 'done' signal. Although the AGM setting might take a bit longer.
The worst part about this device is the flimsy-looking box it comes in. Even though it's priced much higher than DBPOWER 800A, it doesn't have a proper case. I get that they focused more on the quality of the charger but when you're paying this much money, the tiny details start to add more value.
Pros
Capable of bringing back dead batteries to life even at 1-volt

Compatible with both 6 and 12-volt batteries

The integrated eyelet attaches to battery posts securely

Won't overcharge even if you leave it on 24/7
Cons
Doesn't come with a carrying case



6. Schumacher SC1281
The Schumacher SC1281 stands out with its unique design along with the reliable service it offers. I know some people had some issues with the look of this battery charge. But I find it quite interesting. It's almost like they made the design from a different planet.
Anyway, that's not what you're really here for. As I've already said, the performance it offers is great. It's a fully automatic microprocessor-controlled battery charger that can detect whether you have a 6-volt or 12-volt battery on its own.
On top of that, it comes with a feature called float mode. It makes sure that the battery has juice all the time. And you can charge whichever type of battery you like as it supports AGM, gel, deep-cycle, and obviously standard batteries.
To put some icing on the cake, they've added reverse hook-up protection in the cables. It feels nice to know that this battery charger will have your back even when it's done charging.
The intelligent system keeps an eye on the battery and refills it whenever necessary. Now, that's all we want from a battery charger, right?
Pros
Protects internal components with reverse hook-up protection

Compatible with most battery types

100A engine starter is capable of jump-starting big trucks

Checks the health of alternator and battery
Cons
The clamps could've been better quality



7. TowerTop Smart Battery Charger
As we move forward in life, we start to look for convenience. Even though convenience often comes at a price, that's not an issue for the TowerTop Smart Battery Charger. This high-tech battery charger gives you a complete package of everything you need regarding batteries.
From a systemized 7-step charging process to protecting the electrical components with reverse polarity protection, it's there to solve your problems. In fact, it'll do most of the job on its own. Whether you have a 6-volt battery or a 12-volt one, the charger will figure it out on its own.
On top of everything, it can revive any kind of RV, marine, automotive, and gardening equipment. Regardless of how low the voltage is, this heavy-duty charger will get the job done.
Although some people might not like the old-school design. I mean it does what it says and it does it well. While the design might be a little old I still like it.
Pros
Includes necessary safety features

Starts any engine in 120 seconds

Supports 2A trickle charge with no risk of overcharging

The cables have reverse polarity protection
Cons
The design might seem backdated to some people



8. TACKLIFE T8-Newer Model
Now, let's talk about the Tacklife T8 newer model that came out recently. This battery charger is everything you need if you've got a couple of cars in your garage and need to jump-start them every once in a while.
Similar to the older model, it comes with a semi-hard rugged case that you can keep in the trunk for as long as you want. However, it's better if you don't do it in the summer. The heat might not let it hold the charge for too long. Although in normal temperatures it's completely fine.
However, the newer T8 model suffers from a short jump starter cable. It's long enough to get the job done but depending on what type of vehicle you've got, you might have to place the battery in an odd place.
This might result in the battery falling from its place or it might hang from the cables. So, you'd have to deal with this problem. But if you stay a little extra cautious it's not like you can't prevent it.
Pros
Heavy-duty 800A battery charger

Capable of jump starting 30 times on a single charge

Interactive LCD display

Comes with 3 LED flashlight modes
Cons
The jumper cables are too short



9. Deltran Battery Tender Plus
Sure battery chargers have come a long way since they were first released. Nowadays these devices have useful features that basically leave you with nothing to do.
But some people don't want the extra glamour. They want a plain and simple battery charger and for those people, I present you the Deltran Battery Tender Plus.
It's a less powerful battery charger with a 1.25-amp charge rating. So, you can pretty much figure out that it doesn't support any kind of fast charging and so on. You could call it an affordable deep-cycle battery charger, not that it doesn't support other battery types.
But when you think about the price it comes with and the reliable service it offers, it's basically a steal.
Pros
Decent charging speed even at 1.25 amps

Supports multiple battery types

Comes with proper safety features

Much more affordable than other battery chargers
Cons
The instructions aren't the easiest to digest



10. Ampeak Smart Battery Charger
Finally, let's pack things up with our last contestant, the Ampeak Smart Battery Charger. This battery charger comes with a parade of safety features but it can't do one basic thing.
It can't wake up dead batteries. Seems like a bummer, right? Well, don't lose hope because that's not the only reason people buy battery chargers.
Despite that inability, it packs in a number of intelligent features like microprocessor controlling and reverse polarity protection.
One other thing was the dim LCD screen. I know it's an affordable deal but it's surely not the cheapest one out there.
Pros
Comes with 3 types of charging speeds(2/8/15 amps)

Compatibles with most battery types

Microprocessor controlled safety features

The steady 6-step charging process
Cons
The cooling fans create quite a noise



Buying Guide for the Best Heavy Duty Battery Charger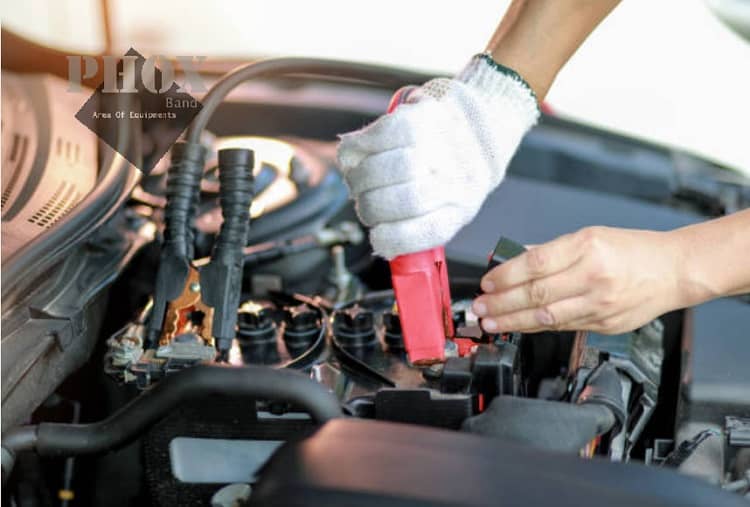 Is it a lead-acid battery or a deep-cycle battery?
Before you go and buy a battery charger you need to figure out what type of battery your vehicle has. First, let's give you an overview of the two types-
Lead batteries have several plates of lead and lead oxide placed in an electrolyte mix of sulfuric acid(35%) and water(65%). When you use the battery, the chemical reaction produces lead sulfate. And the situation reverses when you recharge the battery.
On the other hand, deep-cycle batteries work exactly the same way except they have solid and thick lead in replacement of the thin lead and lead oxide mixture.
Do you need a manual or automatic charger?
If I had to sum up the difference between manual and automatic chargers in one sentence, I'd say it's the monitoring capability while in operation. Let me break it down-
Automatic or smart chargers monitor the battery at all times. That means you'll never be at risk of damaging the batteries for overcharging. Long story short, the charger will take care of all the monitoring, making your job much easier.
On the flip side, automatic chargers don't have any monitoring capabilities. Once the battery is fully charged you have to unplug it to avoid any damage.
However, there's a catch here. Manual chargers might seem like they're not worth it. But the interesting fact is only manual chargers can bring back a dead battery even if the battery has zero volts. It applies an equalizing effect to put an end to the battery's sulfation.
So, figure out what you need the charger for. Is it to revive a dead battery? Or do you need to charge the battery without taking the hassle of monitoring?
6/12/24 or 24-volt?
The voltage depends entirely on the type of battery you have. While there are chargers that support all 3 types, it's always better to check beforehand.
However, the math here is simple. The bigger the vehicle the higher the voltage. For example, motorcycles have 6-volt batteries whereas trucks come with 24-volt ones.
Does it have the right wall connector?
I know this might seem a bit too obvious but you'll be surprised how many people face this problem. Different countries have different wall sockets. Unless you don't want to return the charger you just bought make sure it supports your wall connector.
What safety features does it have?
Your entire vehicle's electrical system is going to stay connected with your battery charger. So, there's a good reason to give focus to safety features.
Reverse-polarity connection safety
This one's a simple yet very useful safety feature. The easiest way to fry your vehicle's electrical system is to connect the negative terminal to the positive and vise versa.
It might seem like nothing but if it can do some serious damage to the electrical components. So, it's better to check if the charger has this feature or not.
Spark-proof
There are a lot of lead-acid batteries that lead-acid, which is completely fine. But when you connect the charger it might lead to sparks, causing an explosion.
That's why it's ideal to get a battery charger with a spark-proof feature. Other than that, you should always wear safety gear when you're working on a battery for extra protection.
FAQ
Can you leave a car battery charger on overnight?
Unless it's a manual battery charger, you can leave it on overnight. Modern automatic chargers have regulated output and smart monitoring allowing the charger to maintain the charging on its own. Although manual chargers with minimal ampere won't do any damage even if you leave them overnight.
How do you charge a heavy-duty battery?
Start by taking out the battery from the vehicle. Then, connect the red(positive) and black(negative) wires respectively to the terminals. Now, depending on your battery you could give it a quick boost or you want it to charge it slowly and then go to maintainer mode.
What should I look for when buying a battery charger?
First, figure out the type and voltage of the battery you have. Then, calculate the Amp-hour rating of the battery if you don't know it already(aH x Voltage = Wattage). Finally, decide whether you want to fast charge the battery or maintain charge and you'll be good to go.
Should I charge my battery at 2 or 10 amps?
Both 2 or 10 amps are considered as slow charging rates. However, with 2 amps you will get slower charging speeds. Unless your battery charger doesn't have onboard intelligence and you can't monitor it yourself, it's better to charge at 2 amps. Otherwise, fast charging is always better.
Can a trickle charger ruin a battery?
Trickle chargers ruin batteries on rare occasions. But at the end of the day, it's an electrical device. So, it's better not to rely on it too much. Charge it for 2 days and then unplug it. This way you can prevent it from overcharging.
Final Words
So, that brings this post to an end. I've tried everything I could to give you an information-filled compact package. But there's a lot more where this came from.
That said, if you need any further help to decide which one's the best heavy-duty battery charger for you, I'm only a click away.